THE DEBUTS
HIGH SPHERE* was originally formed in late 1999 in the French city of Dijon (Burgundy) when Jean-Pascal ROCHE, a locally renowned guitar player, invited Guillaume ERARD (a very promising 18 y.o. bass player) and Kevin DEPLANCHE (a even more promising 18 y.o. drummer) to join his long time project called "MINDWAVES"...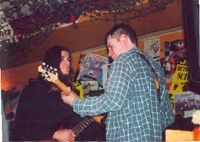 At the time, some songs were already written but J.P. was looking for young musicians to support him on his homemade material and above all, to bring some fresh air and new influences into the play... A few month's later (in july 2000), the trio was considering to hire a keyboard player when David DEPLANCHE, Kevin's brother, was invited for a "jam rehearsal" in what you could call the most improbable home studio in the whole Burgundy*.
After a very good time together and a lot of fun jamming on IRON MAIDEN songs, JP, Kevin and Guillaume decided that David was the "missing member" they were looking for and he therefore joined the band on that very day as the second guitarist.... and first HS lead singer ever! ;-)
THE CONNECTIONS
In a music band, when everything
is there
(fun, friendship, same influences, good skills and.... cold beer!) , things can usually go very fast!
This is exactly what happened to HIGH SPHERE in the course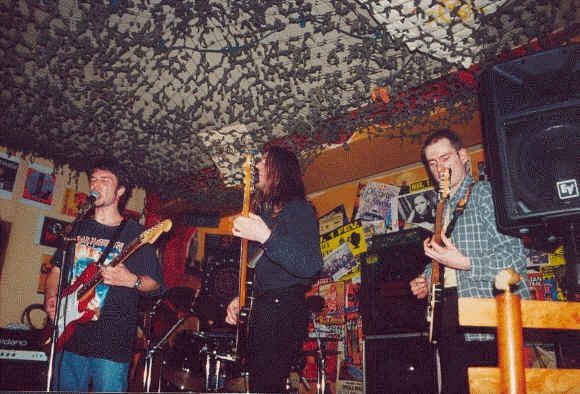 of the year 2000: the quattro in its early line up was having much fun playing some IRON MAIDEN, HELLOWEEN or METALLICA covers but it quickly seemed obvious to the guys that the band was incomplete... David was quite struggling with playing the guitar and managing the lead vocals at the same time and the band therefore decided to look for a TRUE frontman!
And once again... the connection happened! David, who at the time was studying Foreign Languages at the local University, got better acquainted with a hairy - fluffy schoolmate called Guillaume VERNET*, who claimed himself to be a true HELLOWEEN and MAIDEN fan doubled with a damn good high-pitched lead singer...
The guys decided to go for a try...... and were not deceived by what they heard on that very first rehearsal! Guillaume V. (later nicknamed "the Air Siren" due to his
obvious
Bruce DICKINSON look and voice..) very quickly imposed himself as the frontman that the band was desperately looking for for months... and HIGH SPHERE's line up was finally complete!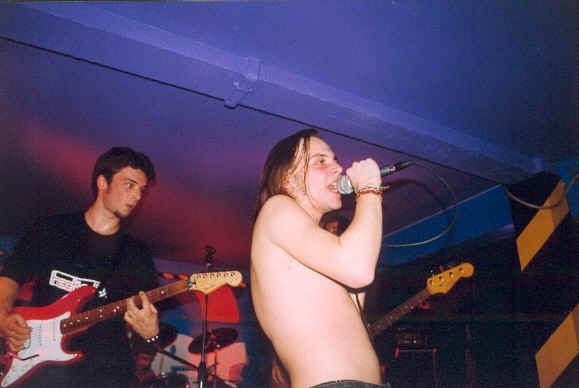 A
new connection was made through Guillaume E. with his long time friend Odilon REIGNARD who, in his quality of Music Students, could help HIGH SPHERE find gigs in Dijon -namely at the HELVETIA PUB*. David, on its side, managed to despatch some soundhouse tapes at the University and namely to the SENIOR LIMPIO's president (Stephane, also drummer from a Dijon Hardcore metal band), a very influential local music association, which eventually enabled the band to play in renowned pubs like TITTY TWISTER and B.C's.
At that time and within only a year, HIGH SPHERE had become one of Dijon's pioneer bands on the HEAVY METAL scene alongside groups like DREAGAN, AEGIRSON or BREAKPOINT.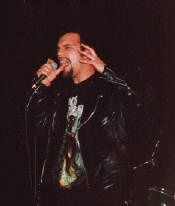 In March 2001, HIGH SPHERE's frontman Guillaume V. had to leave the band to continue his studies in Spain... but a gig was then scheduled and HS definitely had to find a replacement as the set list of the time (also including PROGRESSIVE songs taken from the MINDWAVES project) needed it!
This time, the connection was made thanks an add in a newspaper (between the "Lost and founds" and the "second hand cars" sections...) left by a guy called......... Ludovic DESA.

Ludovic already knew HS from the gigs he had seen over the past year in Dijon and, even though astonished to hear that he was to be auditionned by the guys, he decided to have a try and show them what a great and charismatic frontman he could be!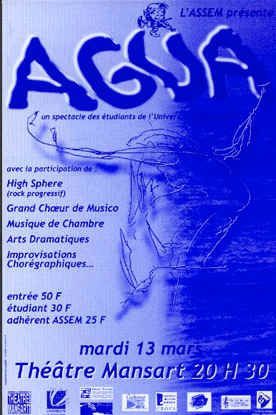 The Magic was there right from the beggining and "L.U.D.O." was to be Guillaume's replacement for the forthcoming
MANSART THEATRE show!

The gig was a real success despite the fact that Ludovic had joined the band only a couple of weeks earlier... earning at the same time his forever membership in HS!
FALL and REBIRTH
By March 2001, after one year and a half of success on the local music scenes (including outdoor gigs), the various band members had to separate their ways for their respective studies and the band collapsed almost as fast as it was created... but the friendship between its hard core members was definitely too strong and a studio project was eventually initiated by Kevin, Guillaume E. and David...
The lyrics and the various musical ideas were then put in common and exchanged (with the help of the INTERNET file transfers*) and a concept album was soon put together with the continuous support of Simon-Pierre BABSKI*, HIGH SPHERE's long time photograph (as well as "fan number one").
It then took a year (2003) to create the pre-demos and by July 2004, the band was finally ready to go in STUDIO* with what sounded like a HEAVY/PROG METAL style!
A few months later (early 2005), and despite the fact that HS members were then spread all over Europe for various reasons, HIGH SPHERE produced its first EP ever:
FORGOTTEN WORLDS Part 1 : The Lost Continent.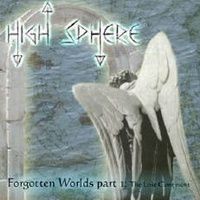 The album received very good critics from the specialized press (being even compared to bands like QUEENSRYSCHE or FAIR WARNING) and a
relatively good numbers of copies
were then sold in local Music Stores.
Due to this very unexpected success, HIGH SPHERE decided to produce as quick as possible the Part 2 of its concept : The EDEN'S GATES. Nevertheless, it had become clear by then that some musical disagreements had appeared between the band members with some of them willing to stick to the
heavy metal
roots of the band and some others pushing to go in an even more "progressive" directions.
Guillaume E. then decided to go in its own direction and the impact of the loss of one of its founding member left HS between two lines...
But once again, the strong links between the remaining members helped the band to get the head above the water and, in 2006-2007, Kev and David soon began to work on a new concept album driven by a very original idea from Kevin... (more to come on this matter in the NEWS section in 2008).
Ludovic (who had in the meantime formed bands like MORPHEUS*, BOB's LEG and is currently still involved in projects like DENIED and HELL's GATES) was reinvited on board of the HIGH SPHERE ship and Simon-Pierre also soon rejoined the guys, bringing his neverending support to the concept and... the SPHERIANS were together again!!!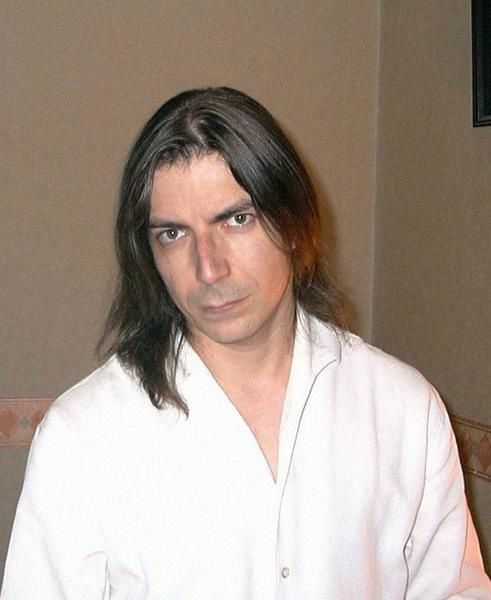 But HIGH SPHERE was still looking forward to going back to its original HEAVY METAL identity and it was clear to the guys that a new guitar player was absolutely necessary to make the part 2 of FORGOTTEN WORLDS possible.... and once again, the good musical connections of the band helped a lot: David offered one of his guitar friend, Fabrice Foutoillet, with whom he had played in a HARD ROCK band called GEMINI, to join HIGH SPHERE as its second lead and rythm guitar player, alongside David!
And that was it.... HS was soon reformed as it once begun almost 10 years ago: a HEAVY METAL band with progressive influences!
PRESENT
What happens next is what you are going to witness everyday by coming as often as possible on this blog : the band is currently rewritting the FW part 2 songs and we all expect them to post new music materials in the coming months, weeks or even days!
In the meantime....
THE BAND IS LOOKING FORWARD TO WRITTING THE NEXT CHAPTERS OF ITS STORY.....
UP THE SPHERIANS!
*check the TRIVIA section for more anecdocts about this matter...